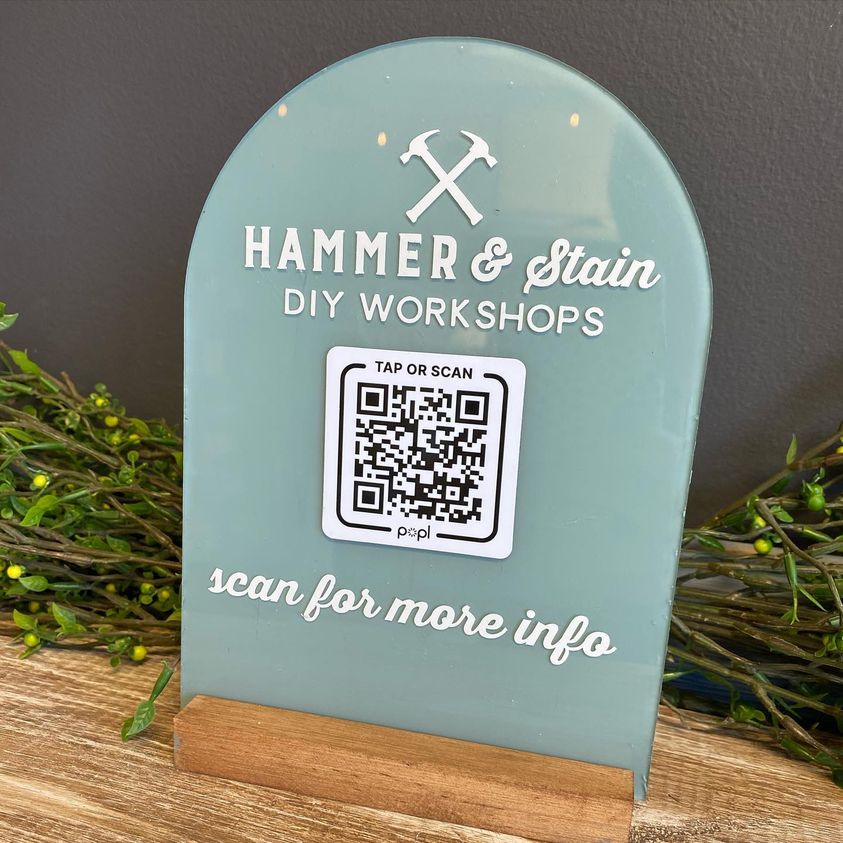 11/21/23 (12pm-4pm) Small Business Acrylic Contact Sign Workshop
Hammer & Stain Laramie
HEY SMALL BUSINESS OWNERS! Get Ready for Black Friday, Upcoming Holidays and Get Connected with your Customers!
We have a special daytime DIY workshop on Tuesday, November 21st where you can create a 7" acrylic contact sign for your business.  We can add your logo and a QR code that can be scanned or bumped so customers get direct access to your social media, contact info, google reviews, Venmo - whatever you want! Choose your colors to match your business decor and get connected with your customers!
Stop in anytime between 12pm and 4pm. Lunch will be provided. If you need more than one sign make sure to add the total number to your cart and checkout.
These will also be available in the Projects/Retail Section of our website -->
CLICK HERE
Select When/How you want to get your sign.
Add Your Business Name to the Personalization Text Box.
Email Your business logo to hammerandstainlaramie@gmail.com.
Regular price $25.00 Sale
Terms
Once your order has been submitted we are immediately beginning the process of production of your personalized stencil. If you would like to cancel your reservation, you must give a minimum of 48 hour notice. Please note a restocking fee of 30% of the total amount of the workshop will be deducted from your refund. Same day cancellations or no-shows will not be eligible for a refund. Cancellations will be processed on the day we receive your cancellation request. It may take up to 2 weeks for the refund to return to the account you used to purchase your items. Hammer & Stain reserves the right to make any amendments to this policy at any time. Notification of any changes will be published on this page. If you have any inquiries regarding cancellations or any of our other policies please contact us.